Volunteer Spotlight
Kylee Butler
Makah Tribal Member and Future Master Weaver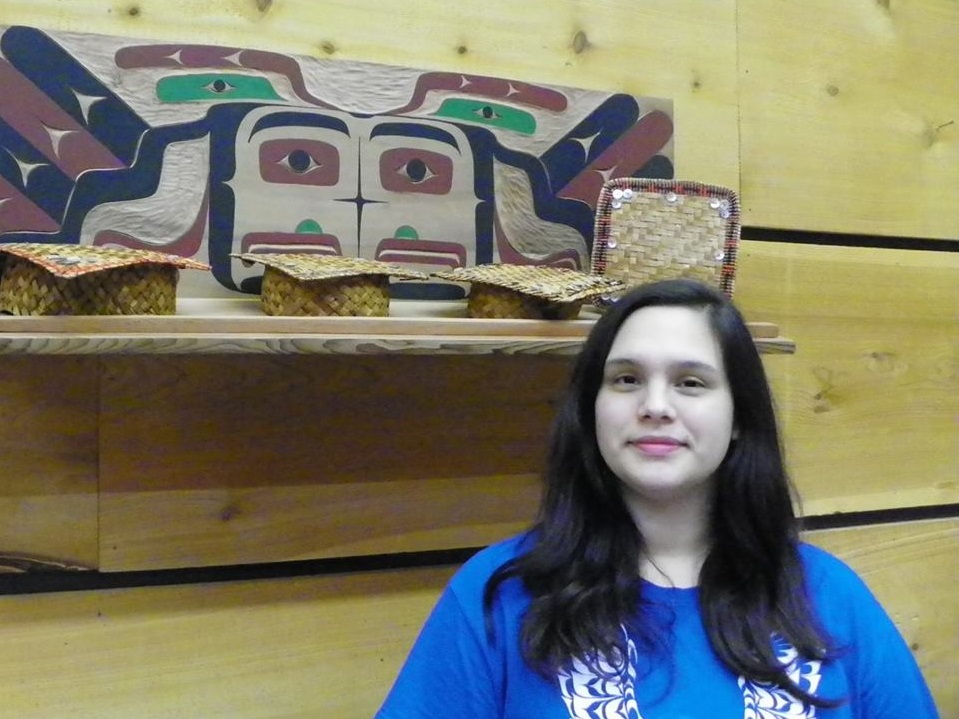 Kylee at the Peninsula College Longhouse, featuring graduation caps that she
and three other women made. The grad cap standing up is the one Kylee made. 
How did you first hear about the Salmon Coalition? What made you decide to volunteer and what volunteer projects have you been a part of so far?
I first heard about NOSC through my academic adviser, Nancy Bluestein-Johnson, who sends students information that's relevant to the Huxley Program, WWU's School of the Environment. At the time I was working on sockeye surveys and wanted the experience surveying for coho. I wanted to start volunteering for NOSC to gain experience and get connected with NOSC, because I have a particular interest in salmon. I have been surveying Naylor's Creek a tributary of Chimacum Creek for fall coho, since Novemeber.
You have completed spawner survyes on other watersheds. What species have you conducted surveys for and in what watersheds?
On Umbrella Creek, a tributary off of the Hoko River, we surveyed for sockeye salmon. When we surveyed, there were a ton of sockeye, I mean a TON, an amazing amount of sockeye! On the Sekiu River, we were looking for coho, but did not find any sign on a four mile stretch, that was a bummer.
The second time I surveyed on Umbrella Creek, it's really secluded there, there was a lot of wildlife activity, especially since there were so many sockeye salmon to eat. We ran into many, what I call food dens, a flattened area right by the river that had a bunch of sockeye carcasses that were eaten. I think it was a bear, but the person I worked with said it could either be a bear or a bobcat. It was interesting to come across these areas. Some of the carcasses we came across weren't quite eaten yet, so they were really fresh. It was likely we came up on something eating the fish and they ran away. It is definitely one of my first experiences with wildlife in that way. I did learn the importance of being aware of your surroundings, especially in that case.
You are currently a junior in Western Washington University's Huxley program offered by Peninsula College. What are you hoping to do post-graduation.  
I have a couple things in mind. I have been looking at Master's programs through Western. I want to go as far as I can in my education. I have also jump started my career, by getting my foot in the door with a couple different places, so I hope to get a good job and make a better life for myself than I have had. That is the whole reason I went to school.
I am wanting a career working with salmon, and other fish of course.  I've always been aware that salmon, for my tribe, has great cultural significance. I have also become very aware that there are many problems associated with the decline of salmon populations. I want to be a part of saving the salmon!
You are interested in harvesting from nature, including medicinal uses of plants. How did you get interested in this? What have you been harvesting lately?
It all started with my family. My great-great-grandmother was a Master Weaver and my grandma was a Master Weaver, as well as my mom. I have always had them bring me out to harvest weaving materials in Neah Bay. So, I have always been exposed to harvesting in that way. It wasn't until I got older and was working on my senior project, my theme was how to become a Master Weaver, when I really started to gather my own materials. During this time, I was exposed to a bunch of different types of books, some of them were medicinal plant books, that sparked my interest. At this time I decided it was time to start harvesting and using traditional medicines.
It's winter, which tends to be a little bit more quiet, especially for plants, but a lot of roots are harvestable. The only root I've harvested lately is devil's club root. But, now is the time for seafood harvesting. I recently harvested some glauber clams. Within the next week, since we have really good low tides, I'm going to go out octopusing and hopefully get an octopus to eat. I'll also be collecting mussles, chitons, and boots (gooseneck barnicles). It is really special this year, because there has been red tide warnings for a long time, up until two weeks ago. This is usually lifted and we are clear to harvest shellfish in October or November and its almost February!
Do you have plans on becoming a Master Weaver yourself?
Yes! I am working on it. I have made quite a few things so far, but am not close to a Master Weaver whatsoever, but my Granny is really proud of me and tells me I am. I know I am not yet, but I have made quite a few items. I made a really big pattern basket recently and I've made a lot of design baskets. Part of becoming a Master Weaver is learning how to harvest all the materials that you need and make a bunch of different kinds of baskets ranging from little tiny trinket baskets that are delicate and cute to really big utilitarian baskets that can be used. Right now my focus is on making utilitarian baskets that I can use with my next one being to make a clam basket.
Is there anything else you would like to share with our readers?
I would like to let readers know that I have had a great time working with you (Katie) on the spawner surveys at Chimacum Creek. If anyone has an interest in working with salmon and learning more about them, they should volunteer. It is a worth while volunteer opportunity and is a great way to get involved, because going out there and surveying is really important. (Kylee came all the way from Neah Bay for coho surveys this year!)
Thank you, Kylee, we have really enjoyed learning more about you and your culture.