Volunteers are the heart of our organization! People like you help us plant trees, count salmon, collect samples, teach kids, assist with events, increase public awareness and take on many other vital roles.
If you would like to volunteer with NOSC, or if you have any questions, please call or e-mail us.
You can also sign up for our email newsletter to hear about our monthly opportunities to get involved. Also check the events page for current volunteer opportunities.
To expedite your participation, fill out the Volunteer Application below. We can't wait to get you out in the field helping salmon. Thank you for your interest and dedication!
---
Volunteer Opportunities
Salmon Spawning Surveys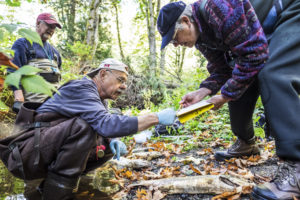 NOSC offers the opportunities for volunteers to participate in both chum and coho spawner surveys annually. Spawner surveys are lead by volunteers and count the number of redds (nesting locations), live/dead fish, and often take scale samples from fish.  Chum surveys typically run from the beginning of September through October and coho surveys run from the beginning of November through mid January. Be on the look out for spawner survey training around late August and October.
Winter Plantings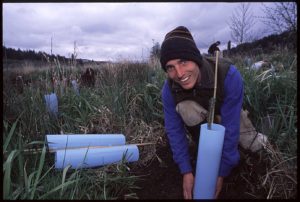 Winter plantings typically occur between December and March. Planting locations range from the Discovery Bay area to Sekiu. Each year provides new planting locations and species to plant. Plantings often include trees and shrubs to dune grass at some of our restoration locations. These are great events to bring friends and family members along to, all ages are welcome!
Environmental Educators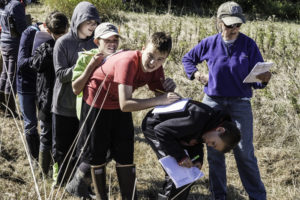 Join NOSC during their environmental education programs. Programs focus on middle school education and work towards allowing students to formulate restoration-based projects. These programs include both in class and field trip dates that you can volunteer for!
Additional Volunteer Documents
---