Salmon are such an important species to the Pacific Northwest for their critical role in our marine and freshwater ecosystems, our economy, our recreation, our culture and our history. We hope that they continue to play a role into our future.
Salmon and their habitats are in trouble. Many of our streams, rivers, estuaries, and coastal environments are in a state of decline with decreased water quality, less vegetative cover, less spawning gravels, higher temperatures, higher silt and fine sediments. The degradation of this habitat has helped contribute to a dramatic decline in the number of salmon in our region.
NOSC looks for areas where degraded habitat can be repaired. Restored and created habitat provides increased feeding, resting and spawning opportunities for salmon, which has contributed to the success of out-migrating and returning salmonids in our local watersheds. We know that we may never recover habitat or salmon to historic levels, but we believe we can repair habitat and boost salmon numbers toward historic abundance. Restoring these habitats benefits salmon, other wildlife, and even people.
Successful habitat restoration depends on creative collaboration between diverse, willing participants, which fosters unique partnerships and builds stronger community. Healthy habitat also means healthy watersheds, cleaner water, and even a stronger economy. Finally, habitat restoration can be done by stewards of all ages, which mean the positive impacts resonate for generations.
We hope you agree that salmon habitat restoration is important to all of us and we invite you to get involved! Contact info@nosc.org to learn more.
Some of Our Recent Projects
Kilisut Harbor Restoration
Pre-construction permitting currently underway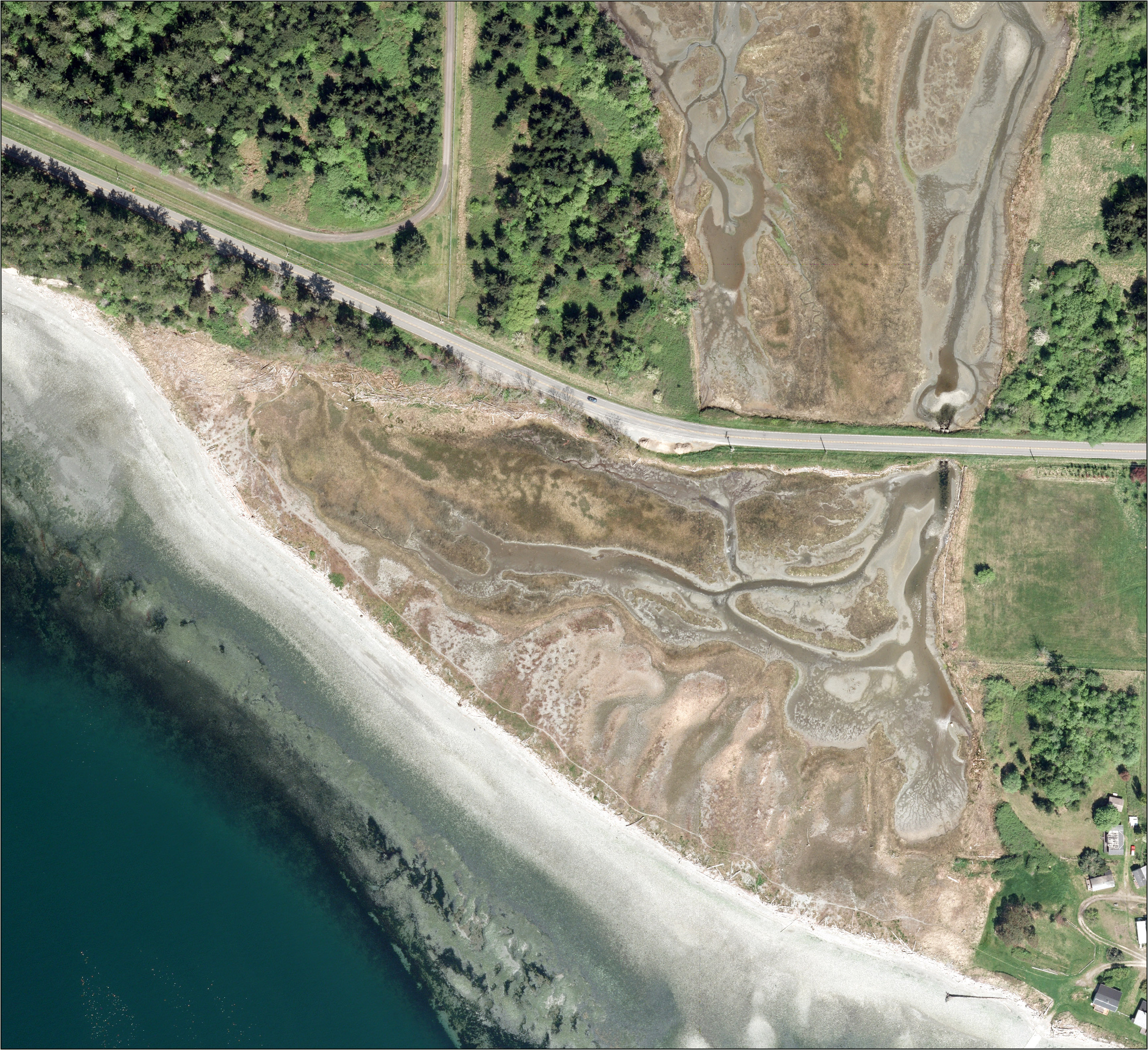 The 116 Causeway that bisects Kilisut Harbor and Oak Bay
The goal of the Kilisut Harbor Restoration Project is to re-create 10-20 acres of historic tidal channels and reconnect a salt marsh linkage between southern Kilisut Harbor and Oak Bay to restore self-sustaining ecosystem processes to approximately 2,300 acres of highly productive habitat in the harbor.  These actions will re-establish a major northern and southern migratory passage in an area of potentially superb nearshore habitat between Kilisut Harbor and Oak Bay for juvenile and adult salmonids, including ESA-listed Hood Canal summer Chum, Puget Sound Chinook and Puget Sound Steelhead. In addition, this project will improve water quality  in a currently disconnected tidal zone and expand migratory habitat for several waterfowl species by removing the earthen embankment placed across the marsh to carry SR116 and replacing it with a 440' bridge, as well as excavating the historic tidal channel connection that has filled in since the embankment was installed.
Three Crabs Estuarine and Nearshore Restoration
Completed 2016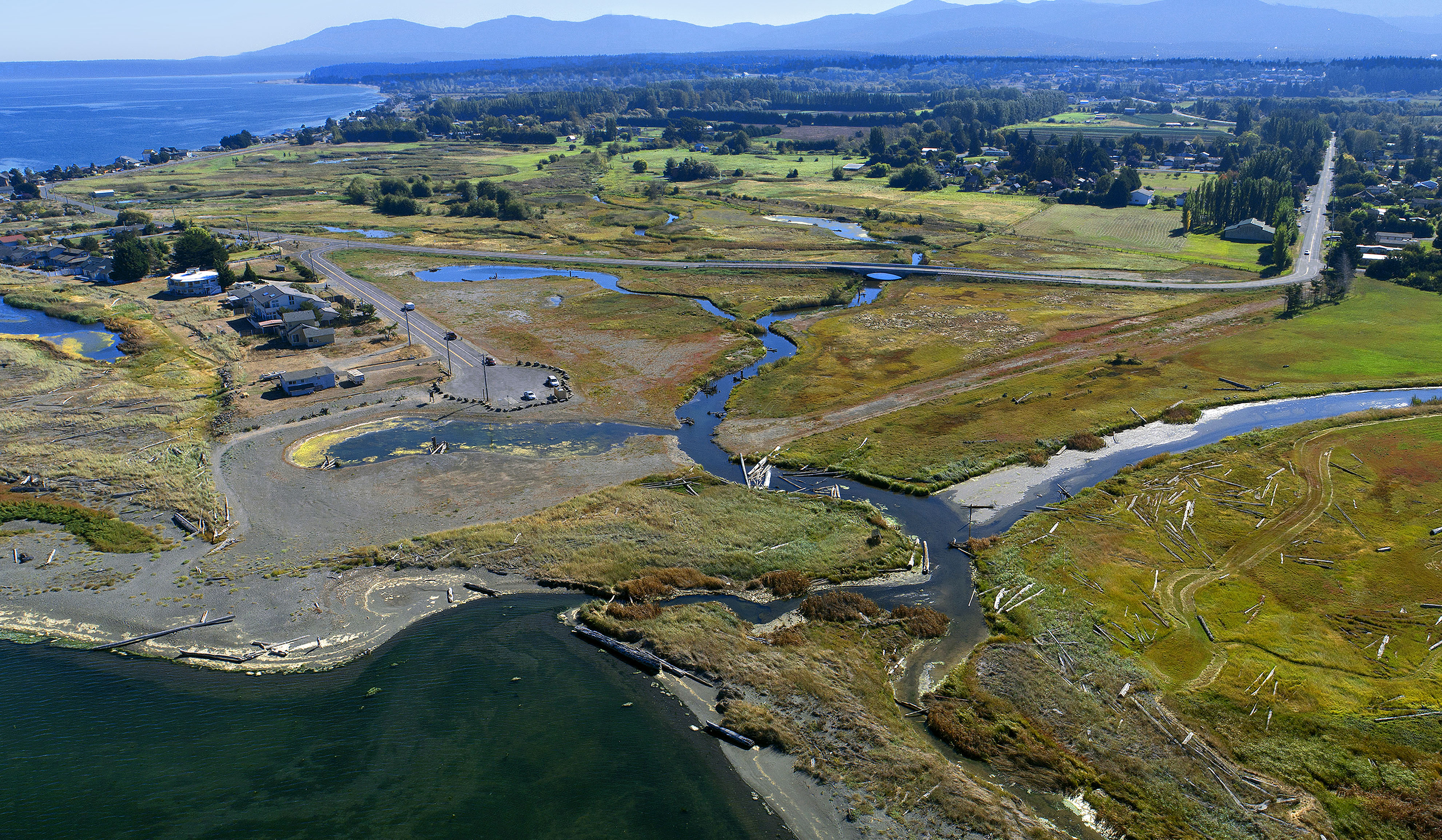 The site of the old Three Crabs Restaurant and road a few months after construction.
Photo by John Gussman.
The 3 Crabs Nearshore and Estuarine Restoration Project removed infrastructure, fill and armoring at the site of the former 3 Crabs Restaurant.  This project restored historic landforms and created public access at a newly established WDFW Wildlife Area along Dungeness Bay and Meadowbrook Creek, the last freshwater tributary to the Dungeness River,  providing essential rearing habitat for outmigrating Dungeness River salmon. The Dungeness estuary and Dungeness Bay supports an average of 7,500 waterfowl (up to 13,000) during migration and winter. Estuarine and wetland habitat restoration here benefits a multitude of waterfowl species by improving access to a variety of habitat types. The ecological function of over 40 acres of coastal wetlands and ½ mile of stream channel have been restored. For a printable PDF of the project map, please click here.  For printable PDFs of the project planset, click on the following files: File 1, File 2, File 3.
Sequim Bay Shoreline Restoration, USFWS Dawley
Completed 2016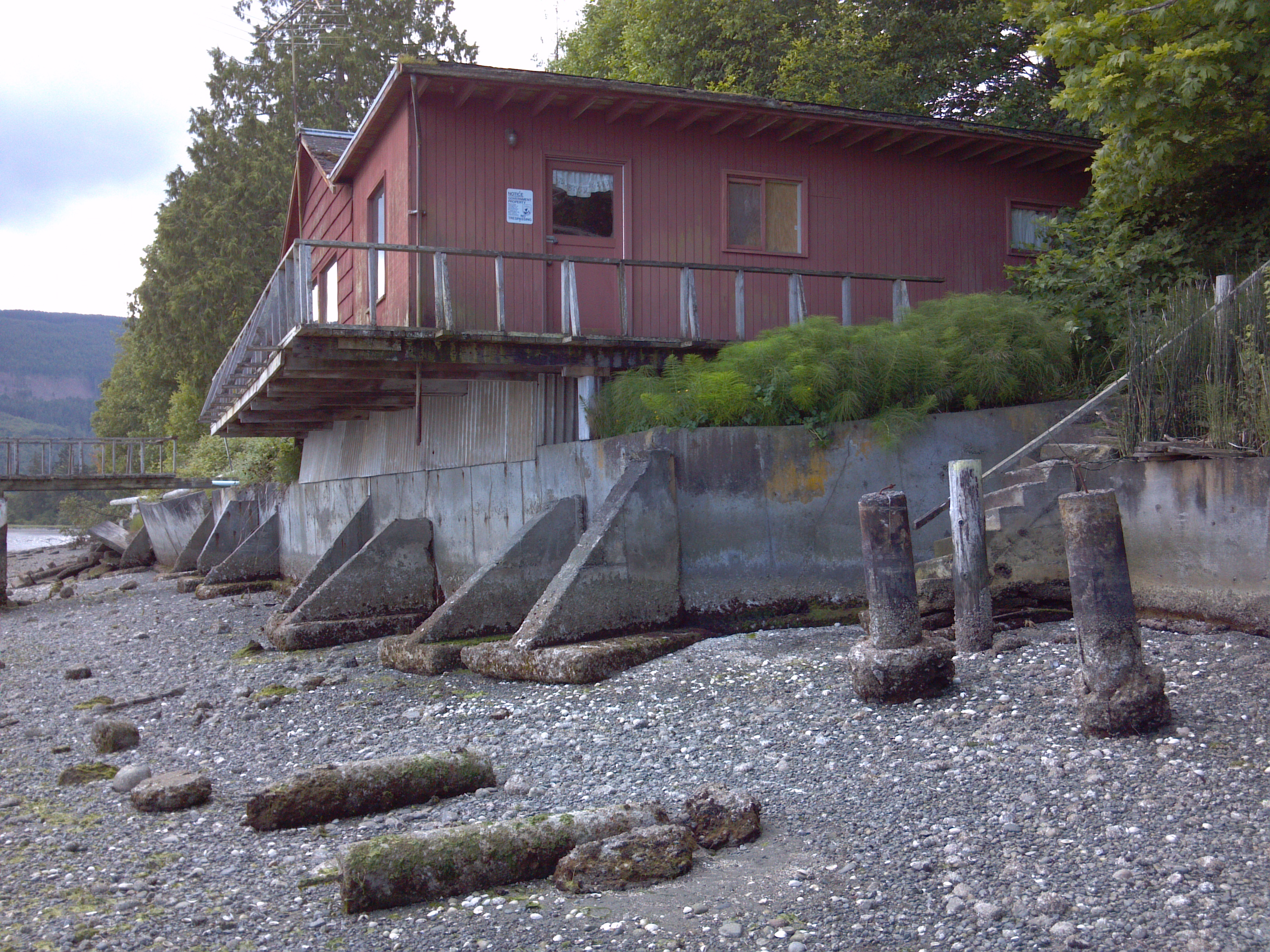 Bulkhead at Dawley Restoration site
The Dawley Restoration Project restored a 1,400 ft section of Sequim Bay shoreline owned by the United States Fish and Wildlife Service through the removal of armoring, bulkheads, fill, and overwater structures. The shoreline was re-contoured to blend into undisturbed adjacent beach faces and the marine riparian zone was re-vegetated.  This project repairs habitat sustaining shoreline processes and improves migration and survival of juvenile salmon, especially Jimmycomelately Creek summer chum. Toxic creosoted pilings were removed, helping to improve water quality within Sequim Bay. The Dawley Phase alone removed approximate 5% of the bulkhead from the Sequim Bay shoreline, a major impairment to outmigrating juvenile salmon.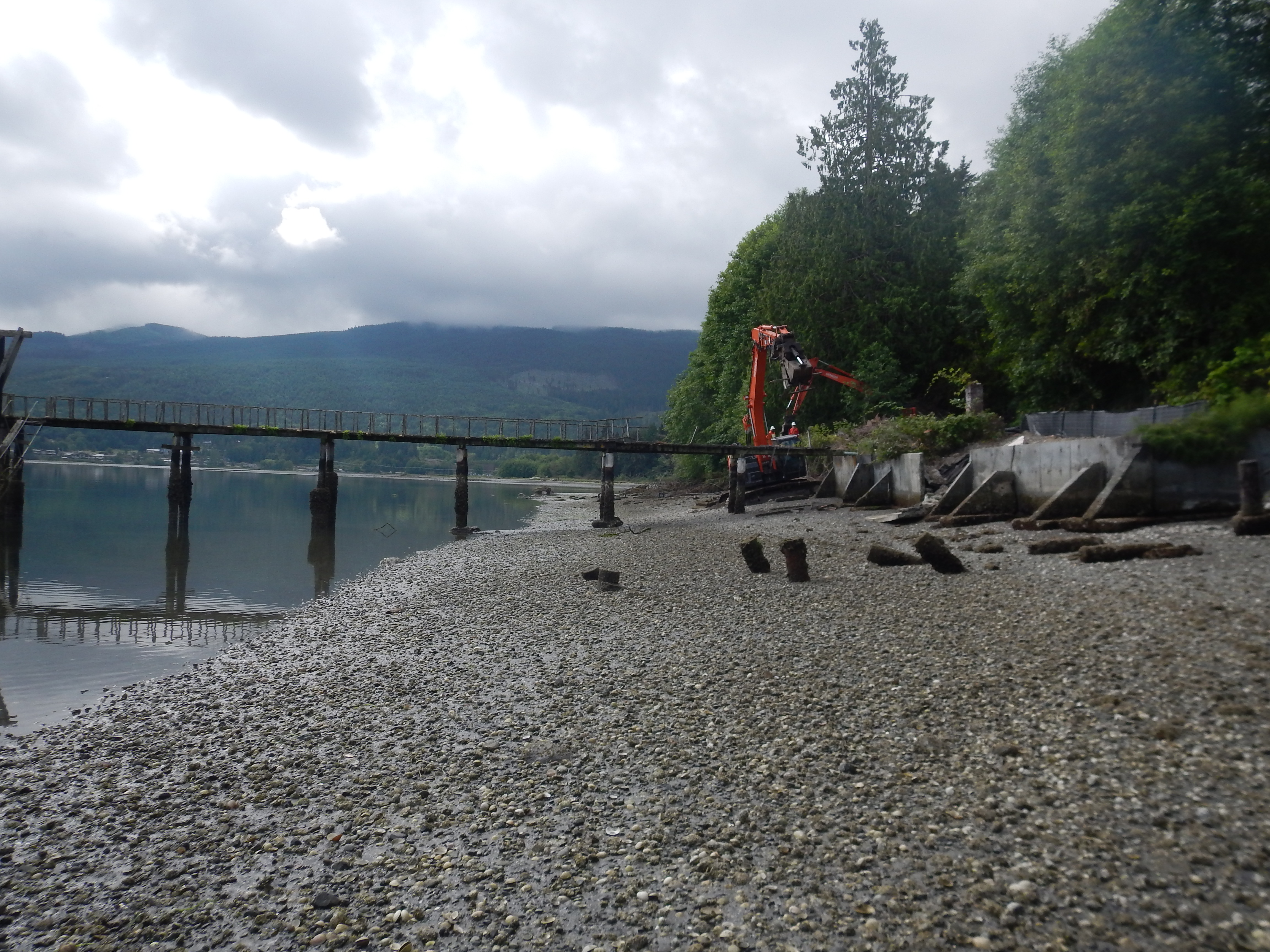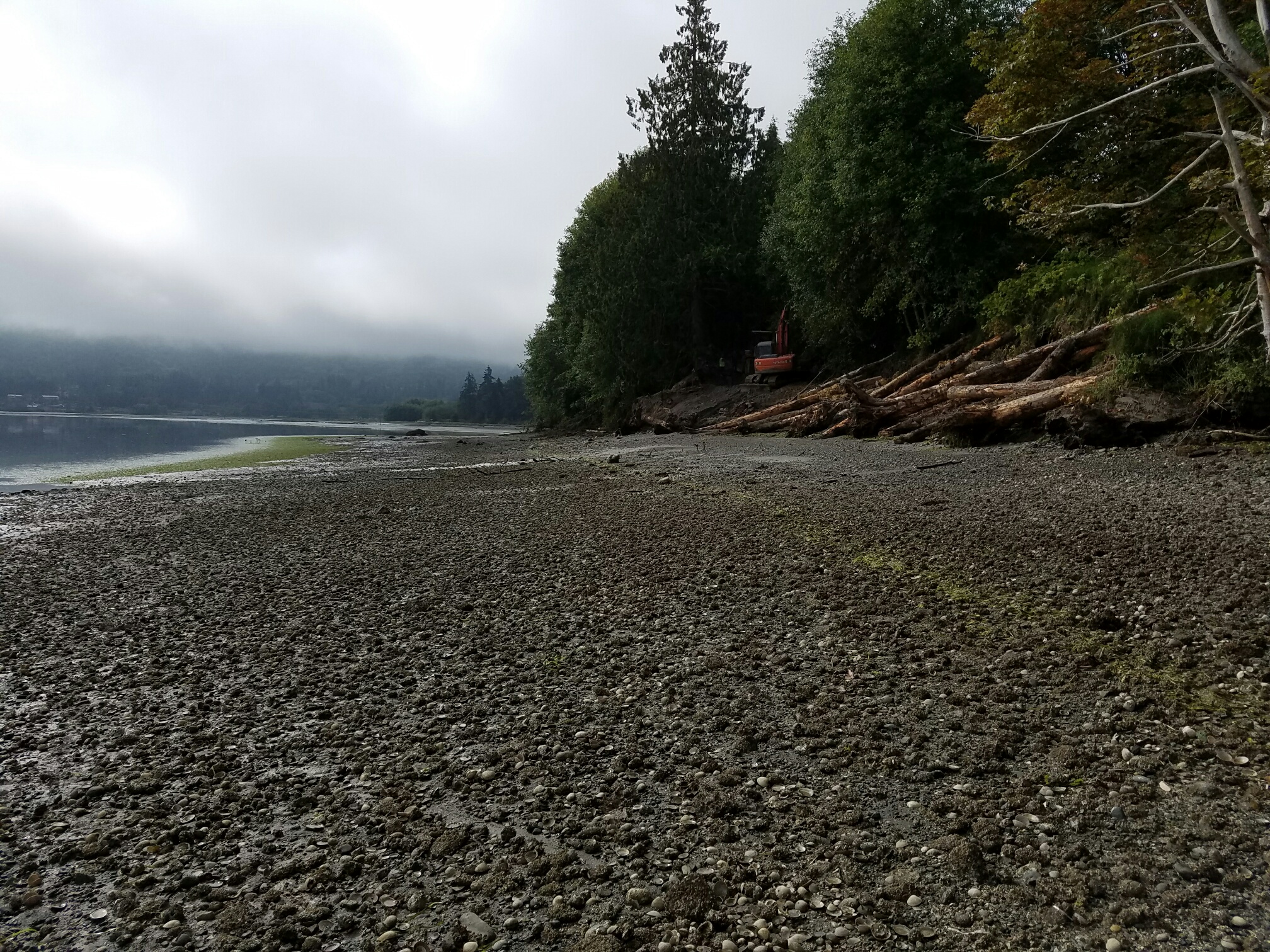 Lower Discovery Bay Estuary Restoration at Snow Creek
Completed 2015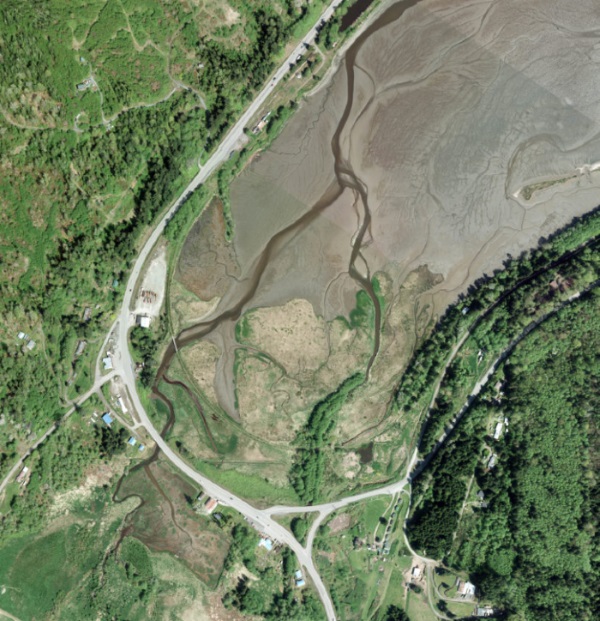 Salmon and Snow Creek join and drain into Discovery Bay
Restoration actions for the Lower Discovery Bay Estuary Restoration include removal and modification of an abandoned railroad grade removal of side cast dredge spoils and accumulated delta cone deposits. The Snow Creek Estuary Project restored approximately 11 acres of salt marsh and tidal channels along the banks of Snow Creek mouth. This area is critical habitat for ESA-listed Hood Canal Summer Chum. The Hood Canal Coordinating Council also released this interactive storymap which tells the story of Discovery Bay Restoration.
Can't find a project? Interested in learning more? Give us a call at (360) 379-8051 or e-mail us at info@nosc.org.