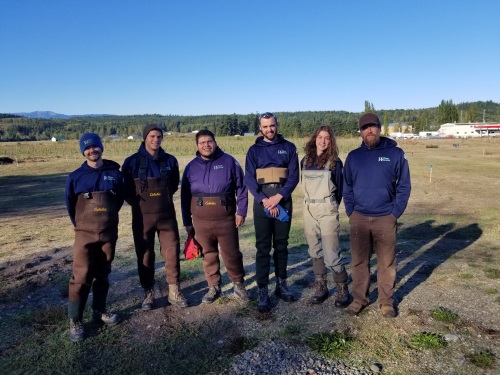 Washington Conservation Corps 2017-2018 Crew
From right to left: Douglas Parks, Blaine Stragier, Angel Arreola, Brian Lemaster, McKenzie Taylor, and Owen French (supervisor)
Our crew is the reason so much restoration work gets done. They are the on-the-ground brains and muscles around many of our invasive plant removal and planting projects. They are out there working hard whether it's icy and cold or just rainy and cold.
Rebecca Benjamin, Executive Director

Benjamin grew up exploring the lakes, beaches and rivers of the Northeast. Some of her fondest memories are of rock-hopping up rivers for hours on end exploring with her friends and resting in the sun by the roar of the water. Childhood curiosities about birds, bugs, trees and wildflowers led her to pursue a degree in Environmental Conservation from the University of New Hampshire. Armed with the skills to interpret the ecosystems around her, and the passion for sharing her enthusiastic understanding of nature with anyone who would listen, Rebecca moved to Orcas Island, WA to be a kayak guide and naturalist. There have been many personal and professional adventures that finally landed Rebecca with NOSC. Here, she brings to bear her skills in interpersonal communication, project development and management, environmental education, complex problem solving and working with non-profit boards. Under her leadership NOSC has strengthened the fabric of the staff and board and has increased the scope and scale of restoration projects being completed through collaborative partnerships in the community. She looks forward to the challenges of diversifying funding for the organization, to expanding NOSC's education programs and to expanding projects further west in our region.
---
Kevin Long, Senior Project Manager
Kevin has been working in the field of biology since graduating from Oregon State in 1993. Before coming to NOSC in 2002 Kevin worked on various biological studies on everything from legless lizards to bald eagles (legged). Kevin is responsible for project development, permitting, implementation, and contracting required to implement NOSC's large scale salmon habitat restoration projects. He also oversees the biological monitoring of past restoration projects. Of course, like everyone at NOSC this description merely scratches the surface of his work here.
Do you have an idea for salmon habitat restoration on your property? Give Kevin a call. An avid seakayaker, forager, and backpacker, Kevin is most at home in the woods or his expansive garden.

---
Nicole O'Hara, Development Manager
Nicole, having grown up on the beaches of NJ, has always had a love for her local environment. Her early days planting dune grass and examining aquatic life clearly impacted her desire to help restore and conserve our watersheds today. Nicole set off for college at the University of Vermont, studied abroad for six months in India and then returned to finish her BA in Environmental Institutions, Policies & Behaviors at Rutgers University. She secured an internship with the Environmental Protection Agency in New York City which lead to seven years of event-planning, fundraising and development work for two non-profits in the city. During that time she also met and married a Sequim High School graduate, now a CPA in Port Townsend. A year after having their first child they decided to leave apartment/city-living and move to the Olympic Peninsula. Seven years and two more children later, she is very happy to be back to work in a professional capacity, engaging with our local ecosystem and helping to foster stewardship in our community.
---
Nancy Erreca, Finance Assistant
Nancy has been visiting Port Townsend for 35 years and moved here permanently five years ago. She loves being on, around or in the water. She rows, kayaks and scuba dives. She also enjoys hiking and gardening. She feels it is great to be working for an organization like NOSC that works to restore our local environment.

In the office, she assists the staff, focusing on helping the finance manager with grant billing and Rebecca with everything under the sun.
---
Sarah Doyle, Stewardship Coordinator
Sarah grew up in Baltimore, Maryland where at a young age she developed an intense desire to protect the natural world around her thanks to many trips into the wilderness with her parents. She followed her passions to college, where she received a B.A. in Environmental Studies and spent a semester abroad, studying at the University of Cape Town in South Africa. After college, she interned with the Smithsonian's National Zoo to study the ongoing human conflict with Asian Elephants and teach GIS to wildlife managers. At NOSC, she oversees our WCC Crew and IP, coordinates tree plantings, implements project monitoring and is a grant writer. She is also the District 1 representative on the Jefferson County Noxious Weed Control Board of Directors. In her spare time, she enjoys backpacking, mountain biking, snowshoeing, yoga, and riding her horse.

---
Chrissy McLean, Interim Education Program Manager
Chrissy McLean has been working as an Environmental Educator in the Salish Sea region for 20 years. In addition to many years as a NOSC volunteer, Chrissy brings an extensive background in informal, classroom, and field settings with students of many ages to our education program. She is excited to see us through the culmination of our education programs this spring.

---
Olivia Vito, Program Assistant
Olivia began studying the environment in the Shenandoah Valley of Virginia where she fell in love with the mountains of Appalachia and began an active lifestyle of community involvement, planting riparian zones, cleaning up streams and hosting ecology seminars. She was able to study environmental issues in a variety of ecosystems from West Virginian strip mines to Australia's Great Barrier Reef, which gave her an increased interest in the ways humans impact their environment. Since graduating with a B.S. in Biology, she worked as an environmental educator and conservation crew leader across the U.S. Once she found the Salmon Coalition and learned about the plight of the salmon, she was hooked. She now looks forward to restoring local environments and looking for new ways to get the community excited and engaged. In her free time, she can be found hanging out in the woods, climbing rocks or preparing mycelial cultures and fermented goodies.
---
Katie McLean, Education and Outreach Associate
Katie is an Olympic Peninsula native, born and raised in Forks. She spent much of her childhood bouncing back and forth from Forks and the Sekiu/Clallam Bay area participating in such activities as fishing, hunting, and foraging. Katie's love for harvesting from nature brought her to pursue a B.S. in Earth and Environmental Sciences with a major in Wildlife Ecology and Conservation Science from Washington State University. She began her career chasing fishers around the tip of the Peninsula. She looks forward to working with NOSC to help support our wild salmon runs and helping to expand outreach farther west. In her spare time you can find Katie back on the far western portion of the Peninsula hanging out in the woods and out in the Strait of Juan de Fuca or reading a great book.